Charles Davis, born 1870, resided in 1903 in Missouri
Scroll down for Diagram of William Davis DNA Project proven lines.
Charles Davis: this is our mystery man. If you love a mystery, read on.
Here's what we know about Charles Davis: NOT MUCH!
Charles Davis was listed as the father of "Gilbert Davis" on Gilbert's birth certificate in 1903. We have very little information about Charles.
We know he was in New York in 1903. We have letter from him to Mary postmarked in New York City, 1903. He had to have been in New York city area around 1902 to have met Mary Lundrigan. We are assuming that she didn't travel outside her home area, which consisted of New York City, Yonkers, New Jersey, and upstate New York. On Gilbert Davis' birth certificate, Charles Davis is listed as being "age 33" and as residing in Missouri. Unless given a reason to doubt these facts we are accepting them as potentially true.
From the contents of that 1903 letter, we also are led to believe that Charles Davis was "returning to St. Louis soon" and was planning to "go away England soon" and planned to "stay until September" [1903]. So he must have had an occupation that involved travel, like a merchant, or railroad employee, or the financial ability to travel easily.
If you are reading this and you have an ancestor named Charles Davis who was born around 1870 and possibly lived or worked in in St. Louis, Missouri around 1903 and who might possibly have had a wife and child in New York City, please contact me!
We also know that his DNA was I2a since that is the type DNA of my brother's DNA test. If we were to stumble upon a male descendant of Charles Davis or a descendant of Charles Davis' father, or uncle, or grand-father, and their DNA matches, we could be sure we are related since I2a is not a common Davis DNA type.
First Match
My first close match, who contacted me in January 2008, matches 62 out of 67 markers. His brother and son have identical DNA patterns, matching each other 67/67. Our close match's first cousin, son of his father's brother, also is an exact match.
Lucky for us, my close match has a detailed family tree that leads back to an immigrant ancestor, William Davis, born in 1663 in Wales. This William Davis was a Seventh Day Baptist minister who founded a church in Shrewsbury, Monmouth County, New Jersey near the end of his life. He lived some time in PA, Rhode Island, CT, NJ and then the entire church group migrated to and settled in West Virginia. Later, some continued on to Kansas and finally to Wisconsin.
The prelimary search has not turned up a Charles Davis on this William Davis family tree, living near New York in 1870. But, there are many Davis sons whose lines have not been thoroughly searched. Wiith families of 10 and 12 children, sometimes with 7 or 8 sons, there could easily be a whole line which has been overlooked. I'm hoping for this possibility. The other choice is that we match from ancestors who lived in Wales- that would be brothers or uncles of William Davis, born 1663, Wales. That would be a much more difficult search.
My match and I are both continuing to investigate his tree to see where my Charles Davis might have branched off. It is a daunting project, since Davis is such a common name. But since I2a is not a common Davis haplogroup (most men in the Davis surname group are R1b1b2), at least we have that going for us.
William Davis DNA Project
My match and I were both tested through FamilyTree DNA so we are both listed on the FTDNA Davis Surname Project website. With the goal of proving the identified lines of descendants of William Davis, we have begun a subgroup of the Davis Surname Project, called the William Davis DNA Project. We have our own color-coded sub-project section, called #k87577, shaded a dark maroon color. Check it out: William Davis DNA Project. We are searching for and soliciting specific Davis cousins, all descendants of William Davis, asking them to test their DNA to prove different lines of the tree.
As of August, 2010, we have 13 members of the William Davis DNA Project. We have at least 10 lines that we have proven so far.
Here are two diagrams of the lines that the DNA tests show to be close matches. The first diagram is Branch 1- William and his first wife, Elizabeth Brisley.

Scroll down for the second diagram: Branch2-William and his second wife, Elizabeth Pavior. The names with a kit # below them have been tested and match closely.
Check this page again soon since we will be updating it shortly with results from our new tests.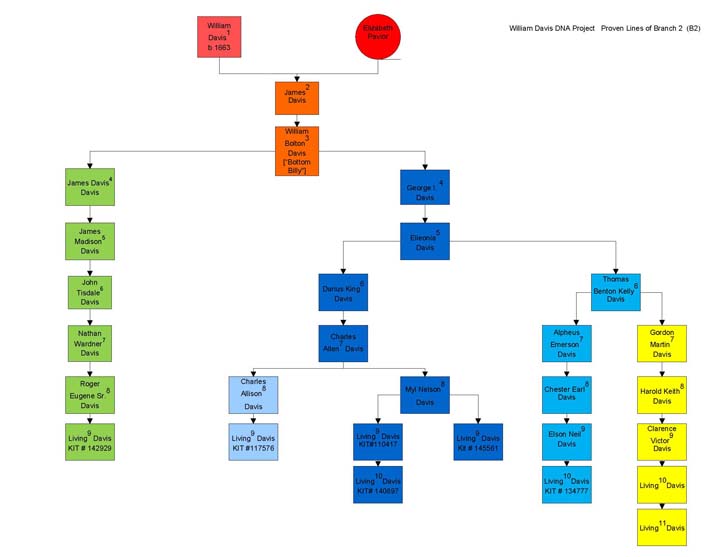 New Davis lines we are attempting to prove with pending DNA tests: